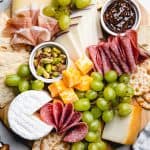 Print Recipe
How to make a Simple Charcuterie Board
Learn how to make a simple Charcuterie Board, a beautiful assortment of cured meats, cheese, crackers, spreads, fruit and nuts that perfectly complement each other. It will be a great appetizer for just about any occasion.
8

ounces

cured meat

(Prosciutto, Salami, Chorizo)

8

ounces

soft cheese

(Brie, Camembert, Goat Cheese)

8

ounces

hard cheese

(Gruyere, Cheddar, Gouda)

8

ounces

crackers

¼

cup

jam

⅓

cup

nuts

(pistachio, almond, peanuts)

2

cups

grapes
Start with the anchors. I love to start with arranging the largest items on the board. Whether it's larger pieces of cheese or a bowl/ramekin with spreads/olives/nuts, it will be easier to evenly distribute "heavy" items first.

Build around. After the bigger items are set, you can arrange medium size items, like meats, sliced cheese, and crackers.

Add the finishing touches. I like to finish the board with adding fresh fruit, berries, or maybe some sliced vegetables.
Create a theme. Before going to the store and buying all the ingredients, think about the theme. Are you making this board for a specific holiday? What flavors do you want to focus on? How are you going to serve it? I like to have an idea of theme and flavor combination, so I can have a list of all the ingredients to buy.
Shop your pantry/refrigerator first! Before you go to the food store, check what you already have in the fridge and pantry. I can bet you already have some good jams, olives, pesto, or nuts that you can use on the charcuterie board.
Create more color and texture. When creating a list of ingredients, imagine how you will arrange it on the serving board and how it will look. Make sure you use different colors and textures to complement each other.
It's all about balance. If you have a lot of rich meats and cheeses, add some fresh fruit or berries to the board to lighten it up. If you serve some olives or pickles, you might want to add a small bowl of sweet jam spread to balance it out.
Sizing. Depending on the size of your party, I usually like to buy 3-4 types of meats and cheeses, or 2-3 types for a small group.
Calories:
328
kcal
|
Carbohydrates:
35
g
|
Protein:
5
g
|
Fat:
19
g
|
Saturated Fat:
7
g
|
Polyunsaturated Fat:
4
g
|
Monounsaturated Fat:
6
g
|
Trans Fat:
1
g
|
Cholesterol:
31
mg
|
Sodium:
346
mg
|
Potassium:
189
mg
|
Fiber:
2
g
|
Sugar:
14
g
|
Vitamin A:
407
IU
|
Vitamin C:
2
mg
|
Calcium:
82
mg
|
Iron:
2
mg