If you are looking for new healthy Instant Pot recipes ideas, check out these amazing meals! They are all easy to make, super delicious, and done in a pressure cooker in no time!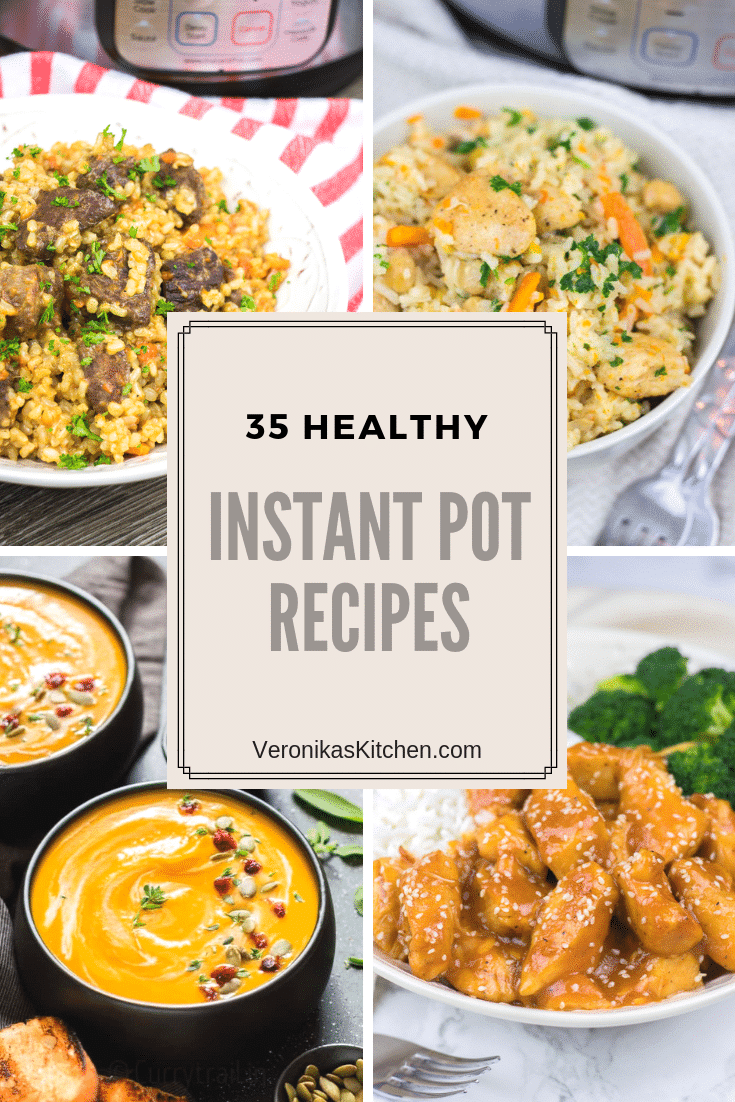 Every year Instant Pot is getting more popular for a number of reasons. It drastically reduces the cooking time, you can make the whole dinner in one pot (less dishes to wash!), plus it's super easy in use. No wonder it became one of the most popular appliances among foodies!
Here, I put together 35 healthy Instant Pot recipes ideas that you can make at home any time. Whether you want to make a simple weeknight dinner or a fancy meal on a weekend, I got it all here for you.
2. Instant Pot Brown Rice Pilaf.
3. Instant Pot White Bean Chicken Chili by Allergy Free Alaska.
4. Instant Pot Butternut Squash and Quinoa Stew by Ruchis Kitchen.
5. Instant Pot Buffalo Chicken by My Sequined Life.
6. Pressure Cooker Cashew Chicken by Living Sweet Moments.
7. Instant Pot Sweet Potato Coconut Soup by Yay for Food.
8. Instant Pot Hearty Vegetable and Brown Rice Soup by Yay for Food.
9. Vegan Carrot Ginger Soup by Vegan Huggs.
10. Instant Pot Chipotle Chicken Tacos by Killing Thyme.
11. Instant Pot Chicken Shawarma Lettuce Cups by Killing Thyme.
12. Vegetarian Instant Pot Pinto Beans by Heartbeet Kitchen.
13. How to Cook a Whole Chicken in an Instant Pot by Carmy.
14. Vegan Mushroom Stew by Delightful Adventures.
15. Instant Pot Whole 30 Chicken Soup by Fit Mom Journey.
16. Instant Pot Chicken Breasts by A Pinch of Healthy.
17. Instant Pot Red Beans and Rice by A Pinch of Healthy.
18. Instant Pot Skinny Creamy Ziti by Cooking with Karli.
19. Instant Pot Tomato Orzo Soup by Imagilicious.
20. Gluten-Free Rotisserie Style Shredded Chicken by Mama Knows Gluten Free.
21. Instant Pot Borscht by Imagilicious.
22. Instant Pot Chicken Noodle Soup by Curry Trail.
23. Instant Pot Mashed Cauliflower by Basil and Bubbly.
24. Instant Pot Butternut Squash Soup by Curry Trail.
25. Instant Pot Mongolian Beef by Gluten Free Palate.
26. Instant Pot Vegetable Beef Soup by Low Carb Maven.
27. Instant Pot Sticky Sesame Cauliflower Bites by In Johnna's Kitchen.
28. Healthy Orange Chicken by Sustainable Cooks.
29. Keto Instant Pot Clam Chowder by All the Nourishing Things.
30. Instant Pot Sweet and Spicy Asian Pulled Pork by All the Nourishing Things.
31. Pressure Cooker Chili Lime Chicken Thighs by Tasting Page.
32. Pressure Cooker Sweet Potato, Chickpea and Red Lentil Soup by Supergolden Bakes.
33. Healthy Beef Barley Soup by The Clean Eating Couple.
34. Instant Pot Rice-a-Roni Chicken by Tessa The Domestic Diva.
35. Instant Pot Orange Chicken