Find my favorite collection of Instant Pot Recipes for Beginners that are easy to make. From simple family weeknight meals to fancy dinner ideas, you can make it all in your pressure cooker!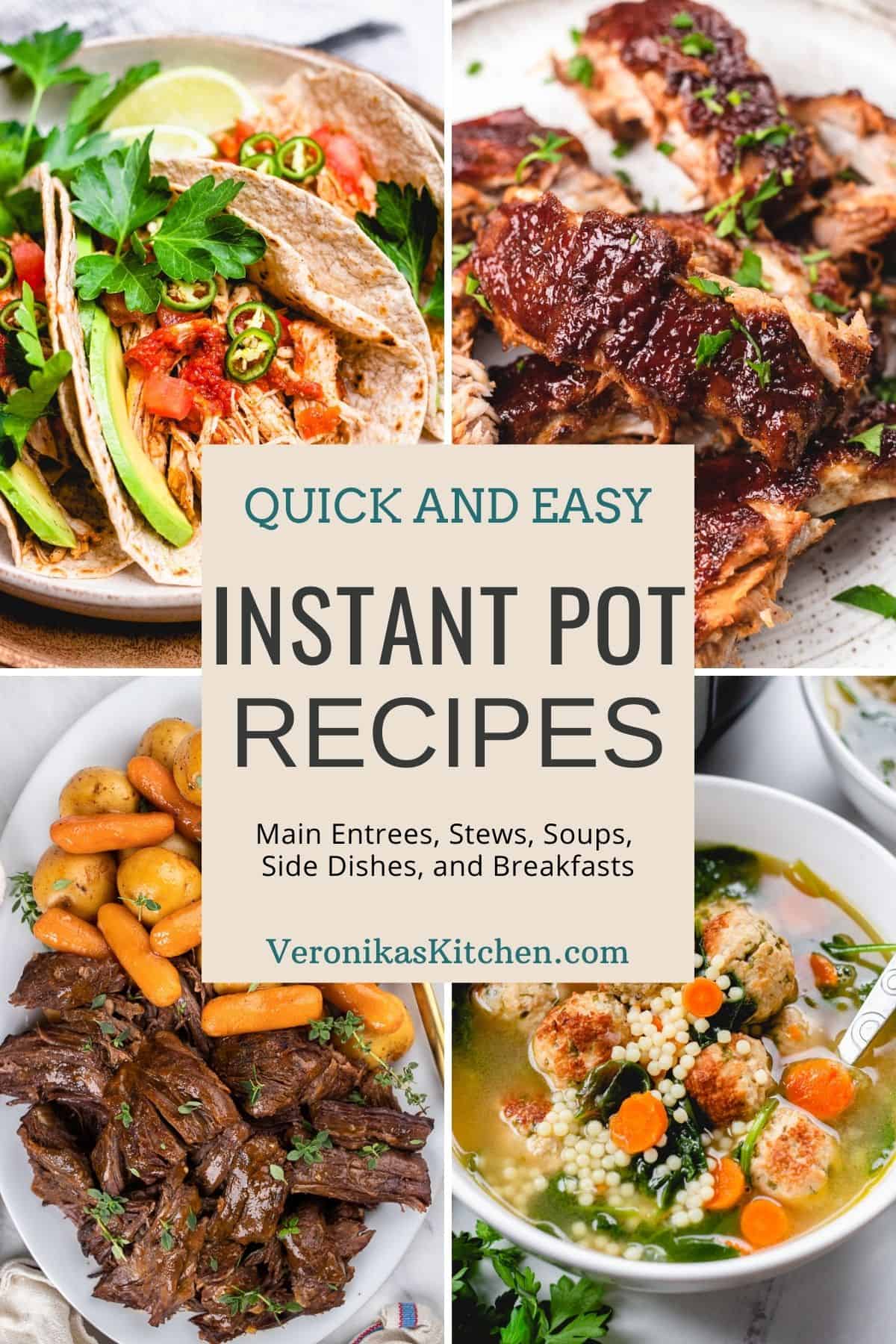 Whether you are a just a beginner or a seasoned user, or just thinking about purchasing an Instant Pot, this collection of recipes will help you create delicious meals like a pro.
From simple side dishes, breakfasts, comforting soups, to fancy meals, you will find something to make from this list of recipes.
Main Entrees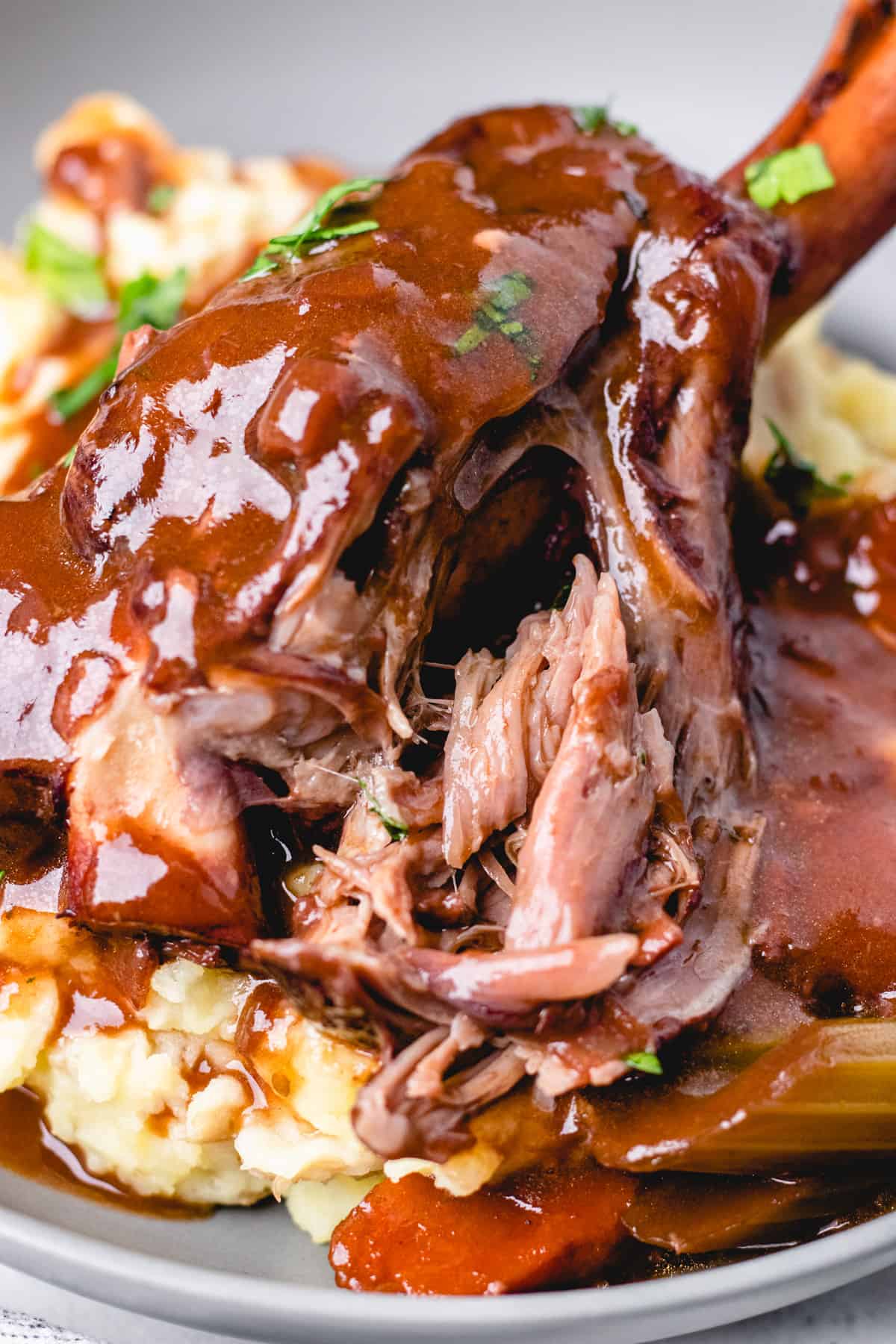 If you want to surprise your guests with a fancy dinner, make this delicious Instant Pot Lamb Shanks! The meat is braised in a rich red wine sauce until fall of the bone tender and will be perfect to serve with Instant Pot Mashed Potatoes and Roasted Broccoli with Parmesan.
This Instant Pot Pot Roast is a true One Pot Meal! It's made with juicy and tender beef chunk roast cooked together with potatoes and carrots until perfection. Serve it with some Roasted Beet Salad and it will make a perfect Sunday dinner idea for your whole family!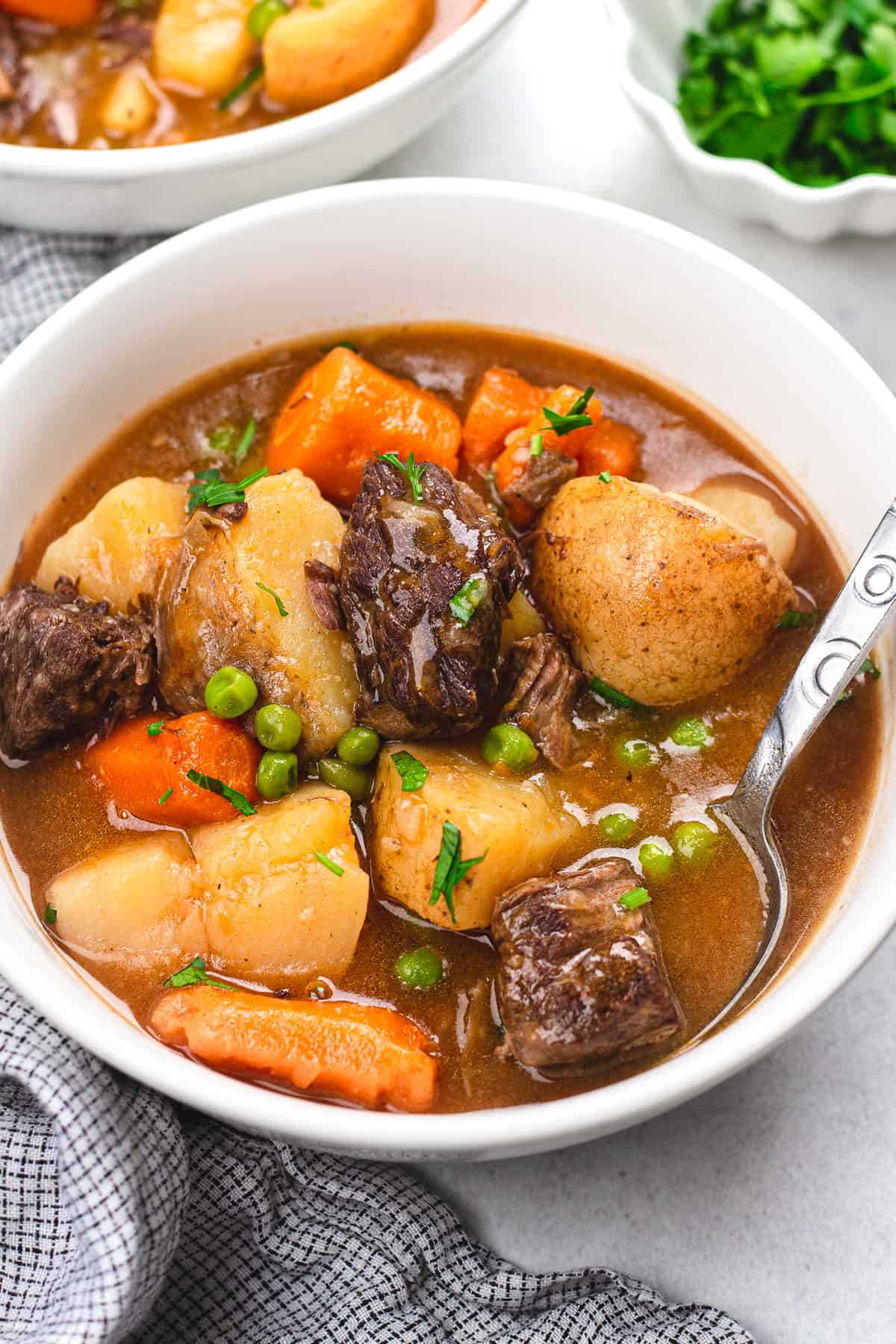 This is the best Easy Instant Pot Beef Stew, made with tender beef tips, potatoes, carrots, and peas. Thanks to a pressure cooker, the cooking time is cut in half, while keeping all the delicious flavors! Serve with some Homemade Potato Rolls to soak all the last drips of the flavorful gravy!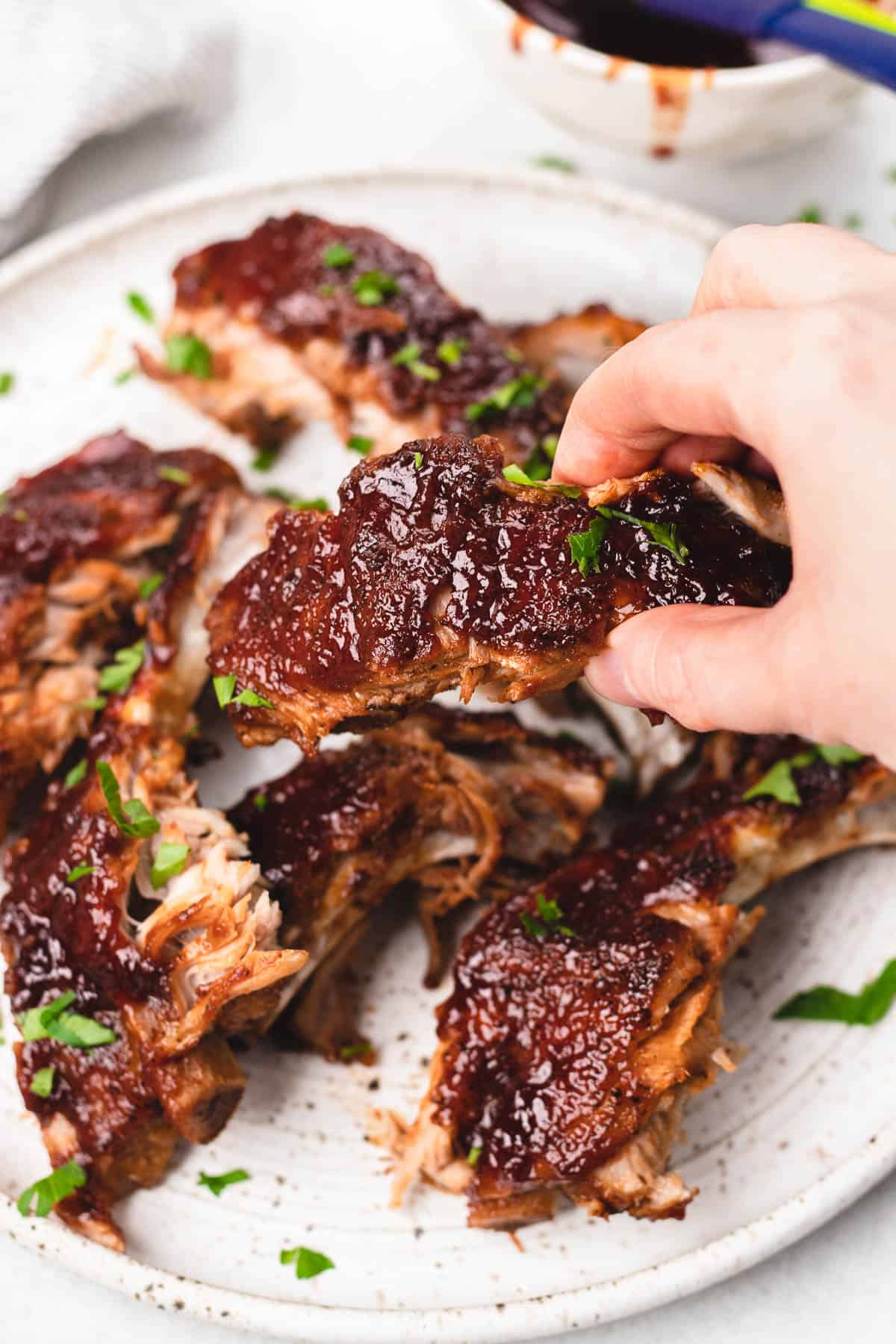 If you are hosting a Super Bowl game party and want to feed the crowd, make these amazing Instant Pot BBQ Ribs! The meat is fall of the bone tender, cooked with aromatic dry rub, then brushed with your favorite BBQ sauce and broil until caramelized. You can serve it together with some appetizers, like Simple Guacamole and Crispy Smashed Potatoes.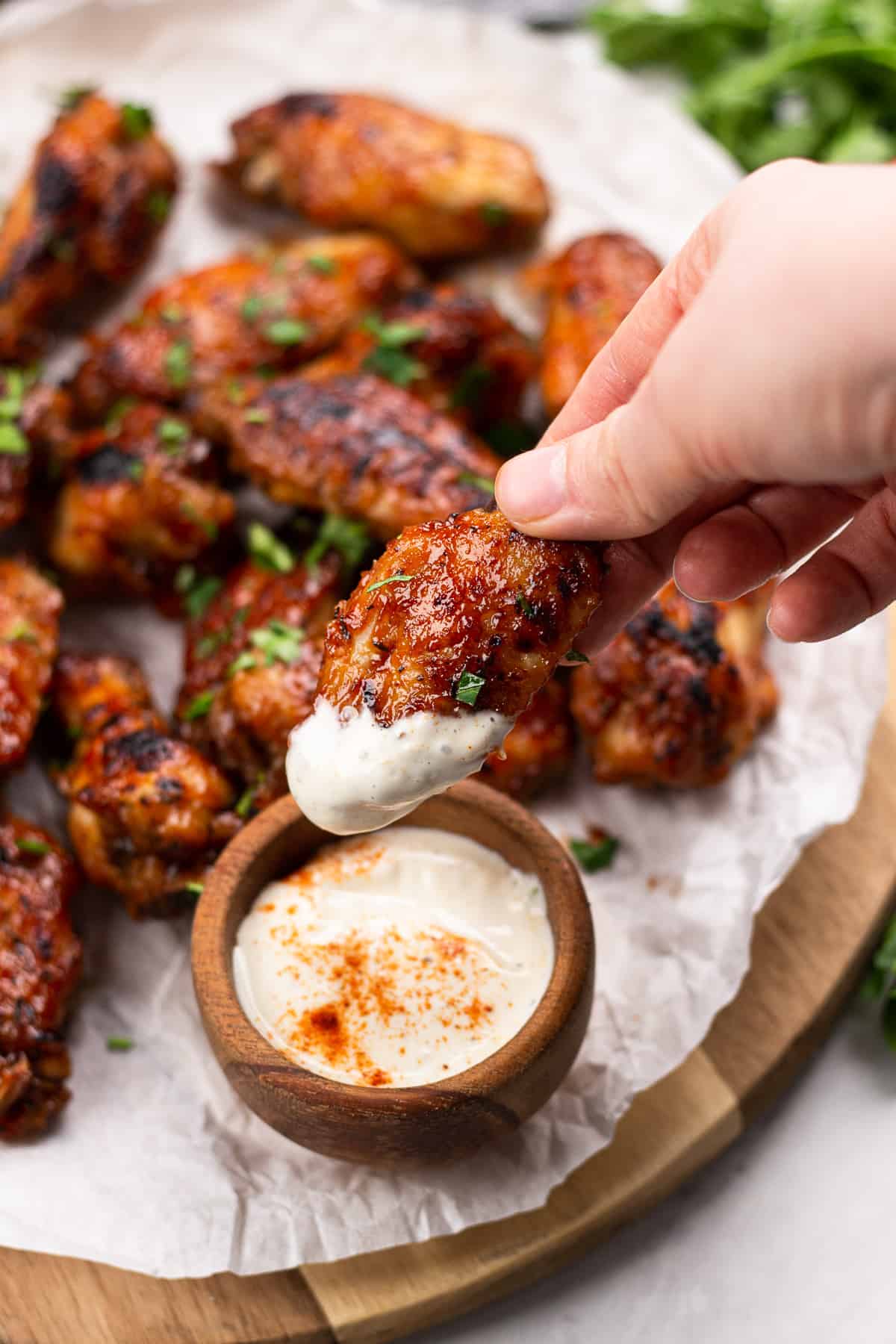 These Instant Pot Chicken Wings are one of my most popular recipes on the blog! They are made with dry rub seasoning, them mixed with your favorite BBQ Sauce and broiled until perfection. Super easy to make for a game party or a fun family dinner! I love serve it with Oven Baked French Fries.
The best way to cook Boneless Short Ribs is in an Instant Pot! The cooking time is cut at least in half and you still have fall apart tender meat. Also, I love cooking it with red wine to have rich and flavorful gravy. Serve it with a side of cheesy Loaded Mashed Potatoes Recipe.
This rich and flavorful Instant Pot Bolognese sauce is made with red wine and served over your favorite pasta. Also, this recipe is freezer friendly and perfect for a meal prep.
There is no other ways I would make my Instant Pot Chicken Tacos! It's such an easy method to make tender and juicy chicken in a pressure cooker. Then put it on a tortilla, top with your favorite toppings, and serve with Simple Guacamole Recipe.
This Instant Pot Pulled Chicken is my other favorite way to cook chicken breast in a pressure cooker. You just need 2 main ingredients and in 30 minutes you will have delicious shredded meat mixed with BBQ sauce. It's perfect for tacos, sandwiches, and even meal prep.
The trick to make the best Instant Pot Pulled Pork is to use dry rub seasoning, then sear the meat, and cook in a pressure cooker until the meat is tender. I love using this recipe for sandwiches and sliders for a Summer cook out party or a game night.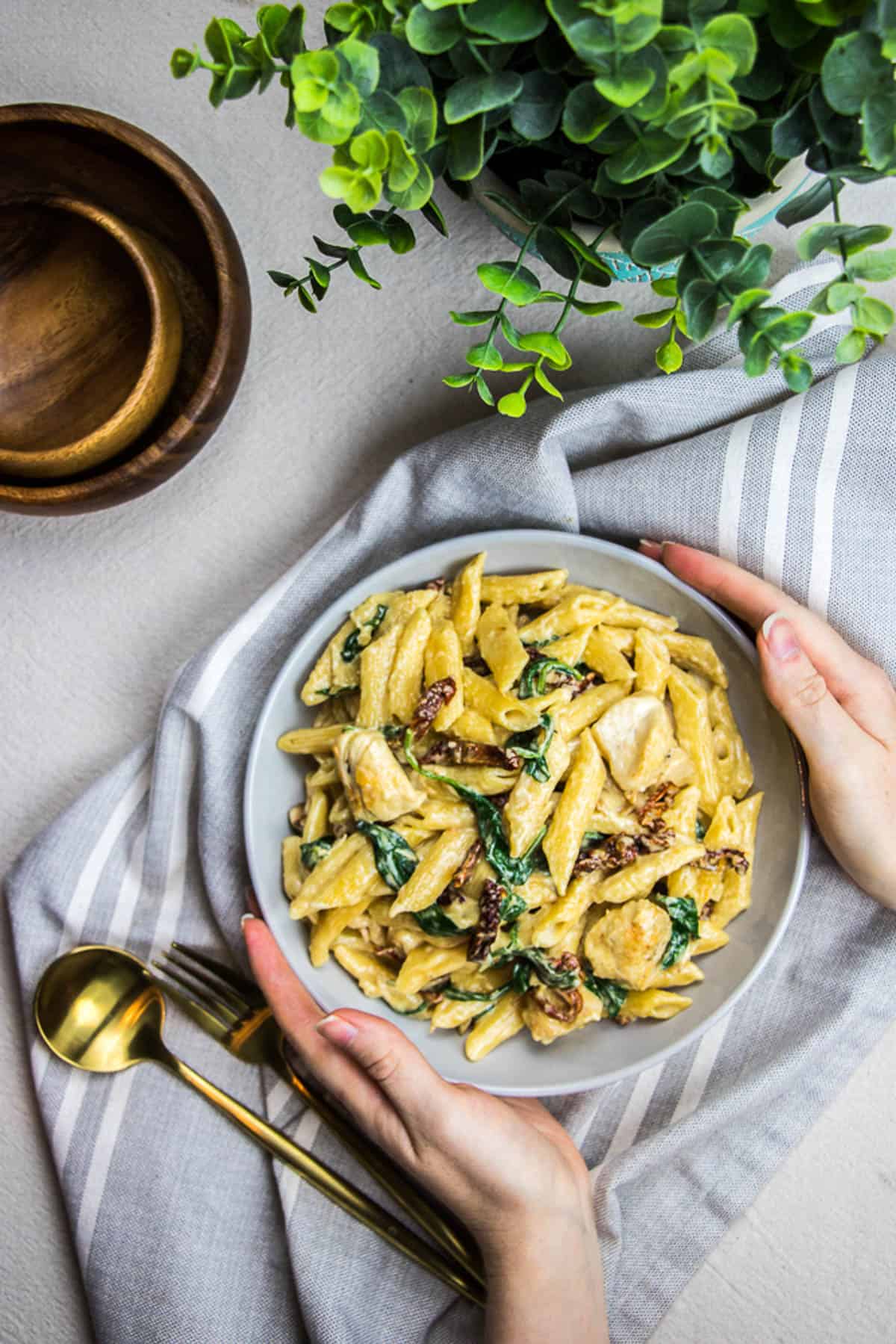 What can be more comforting than a creamy Instant Pot Chicken Alfredo! you can use you favorite type of pasta, add sun dried tomatoes, spinach, and you will have the best dinner ever! The best part is everything cooked in one pot in just 30 minutes!
This is my favorite Instant Pot Orange Chicken made with delicious sweet and spicy sauce. The recipe is healthier than a regular take-out version and has more citrusy flavor. Serve it with White Rice, broccoli, and sprinkle some sesame seeds on top!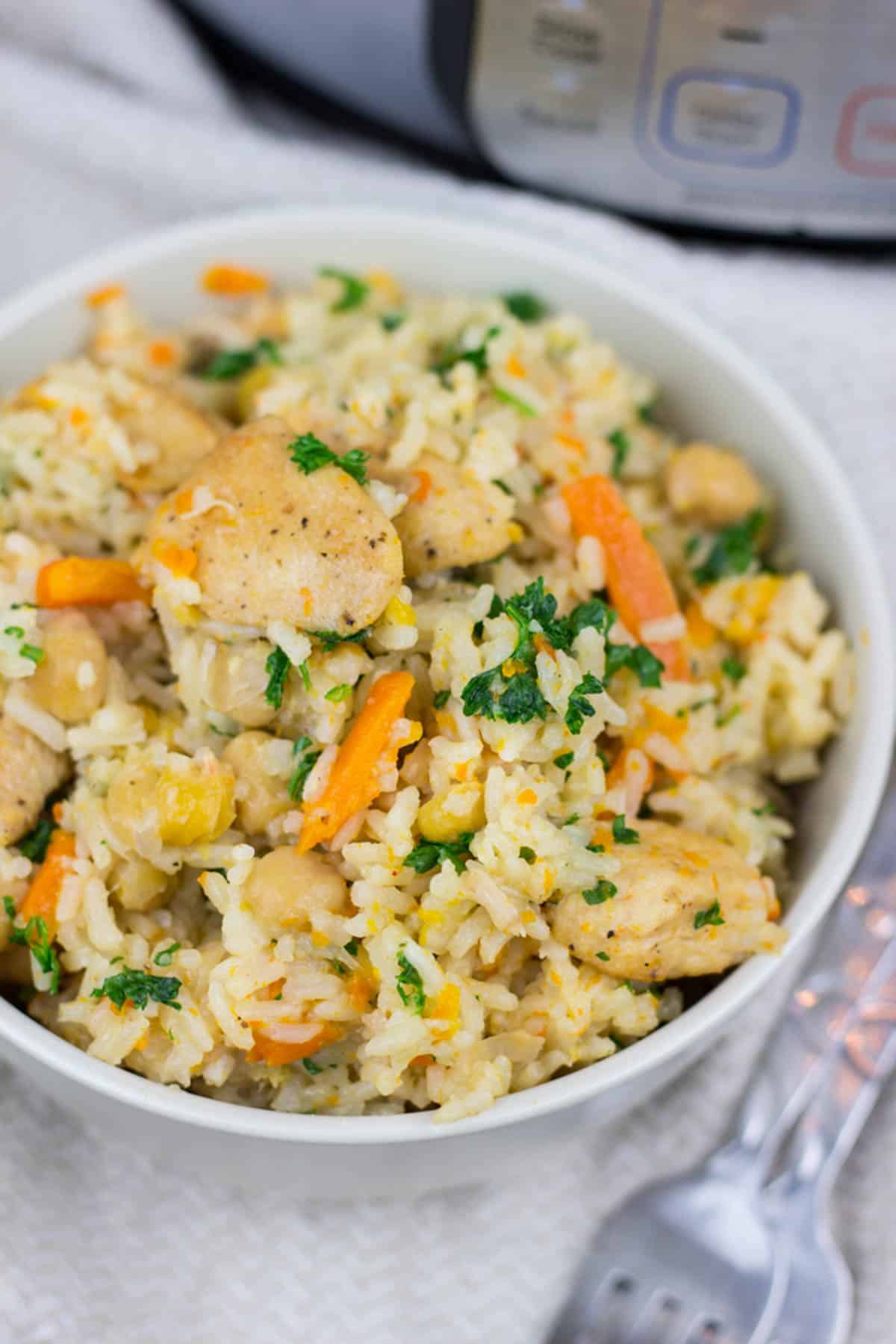 This Instant Pot Chicken and Rice Recipe is my to-go quick and easy meal for a lazy weeknight. You can make the whole dinner in one pot in just 30 minutes! Serve it with a simple green salad with Lemon Dijon Dressing.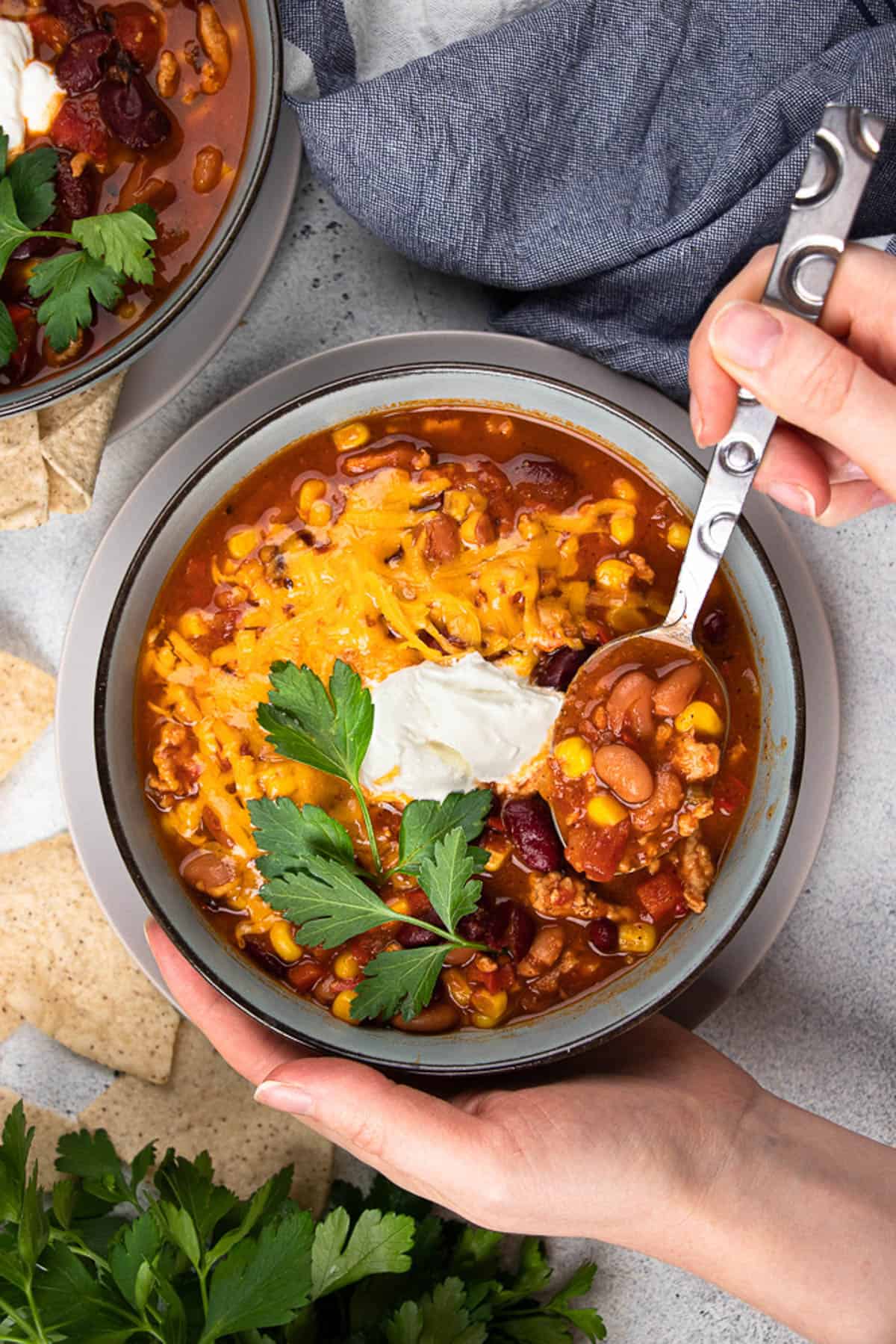 Make this hearty and healthy Instant Pot Turkey Chili for dinner tonight! It's packed with nutritious ingredients, like ground turkey, beans, vegetables, and topped with your favorite toppings! This delicious comforting meal is made in one pot and will be perfect for a cold Fall or Winter night.
Soups
The best of your favorite chili and taco are combined in this delicious bowl of Instant Pot Chili Soup, topped with sour cream and avocado. It's packed with ground beef, black and pinto beans, corn, crushed tomatoes. The spices blend makes all the difference, making this soup very flavorful and aromatic!
If you are searching for a healthy vegan dinner recipe, try Instant Pot Lentil Soup! This delicious and nutritious comfort meal can be made in a pressure cooker in just 30 minutes and will be great for a meal prep and freezing.
One of my all time favorite soups is this Instant Pot Italian Wedding Soup, made with delicious mini turkey meatballs, acini de pepe pasta, and vegetables. You can make it from scratch from start to finish, and it will quickly become your family favorite dish!
This Instant Pot Minestrone Soup is packed with nutritious ingredients, like beans, carrots, celery, zucchini, kale, green beans, and more! The best part is this recipe is completely vegan and can be done in just 30 minutes!
Classic Instant Pot Beef Barley Soup is loaded with tender beef tips, nutritious vegetables, and barley. This is a perfect comforting meal, that you can make in one pot! I love to serve it with my Easy Dinner Rolls.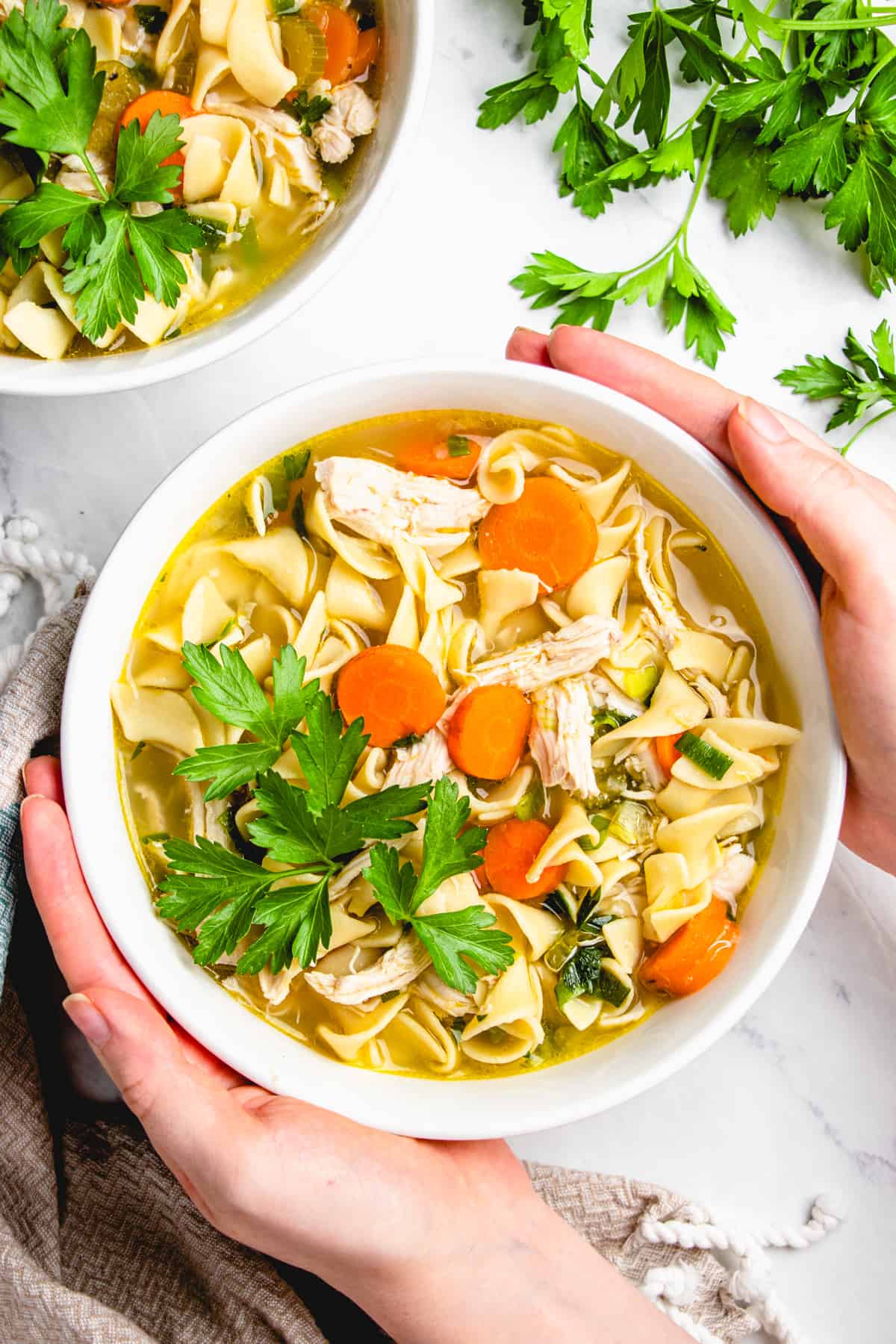 What can be better than a homemade chicken soup! This Instant Pot Chicken Soup Recipe is made from scratch with egg noodles, tender chicken, and Homemade Chicken Stock. It will taste just like your mom's soup but in less time.
Side Dishes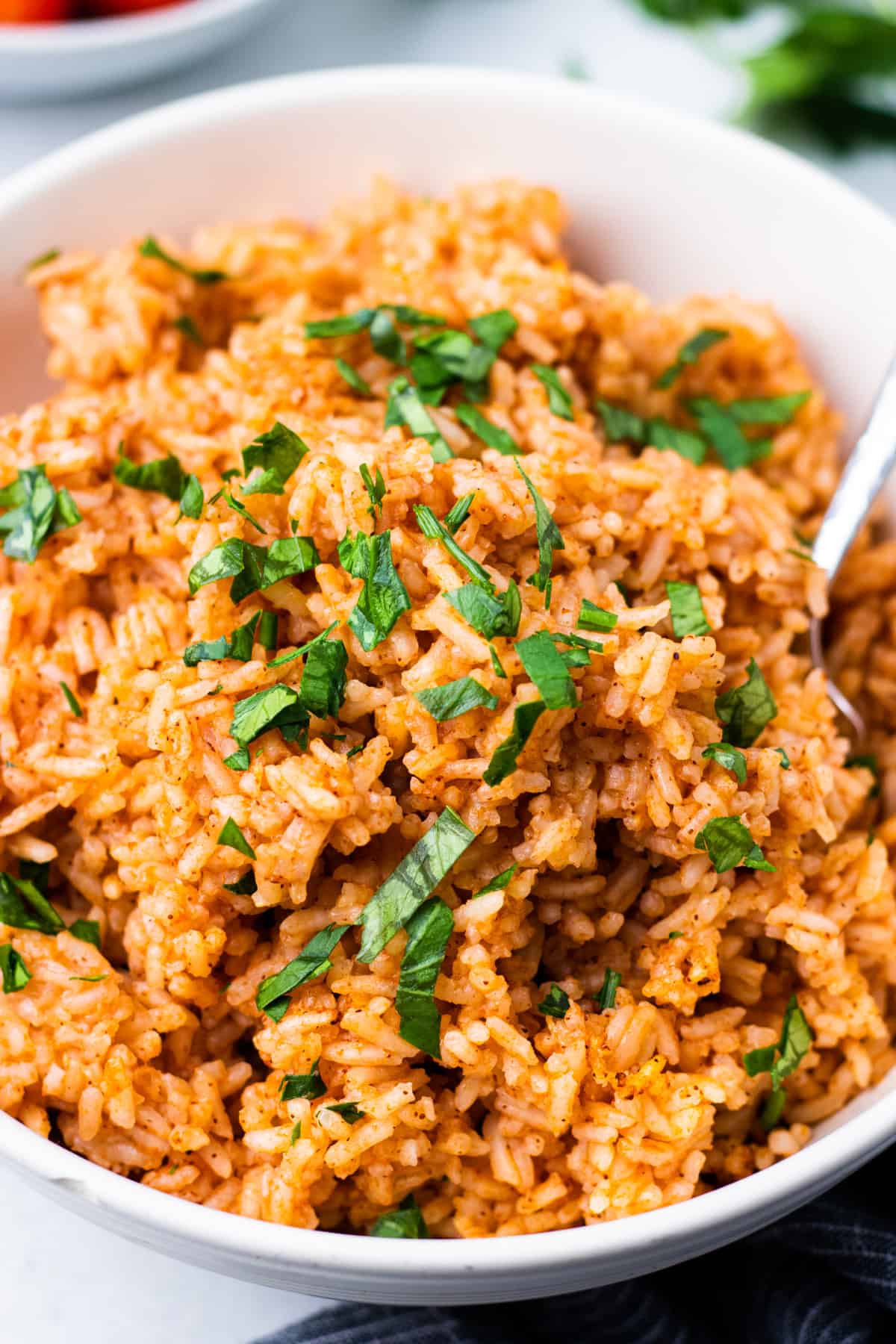 Hungry for some Mexican food? Make this easy and flavorful Instant Pot Mexican Rice! It's made with 3 main ingredients and comes out perfect every single time! I love serving it along with my Taco Zucchini Boats or Turkey Taco Skillet.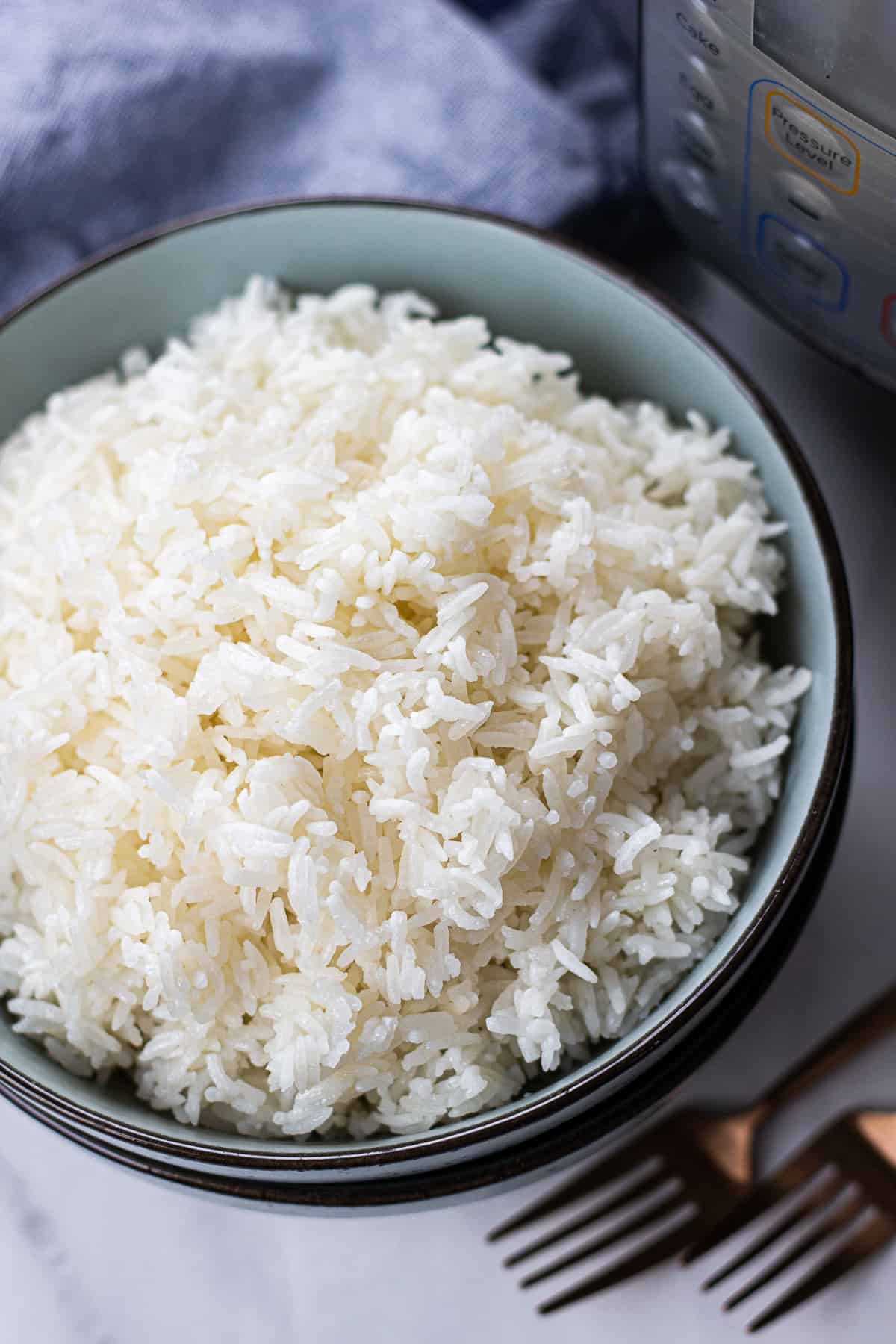 Learn how to make Instant Pot Long Grain White Rice in your pressure cooker that comes out light and fluffy every single time! Serve it with your favorite salad or meats, like Baked Chicken Cutlets, Turkey Zucchini Meatballs, or Hawaiian Chicken Recipe.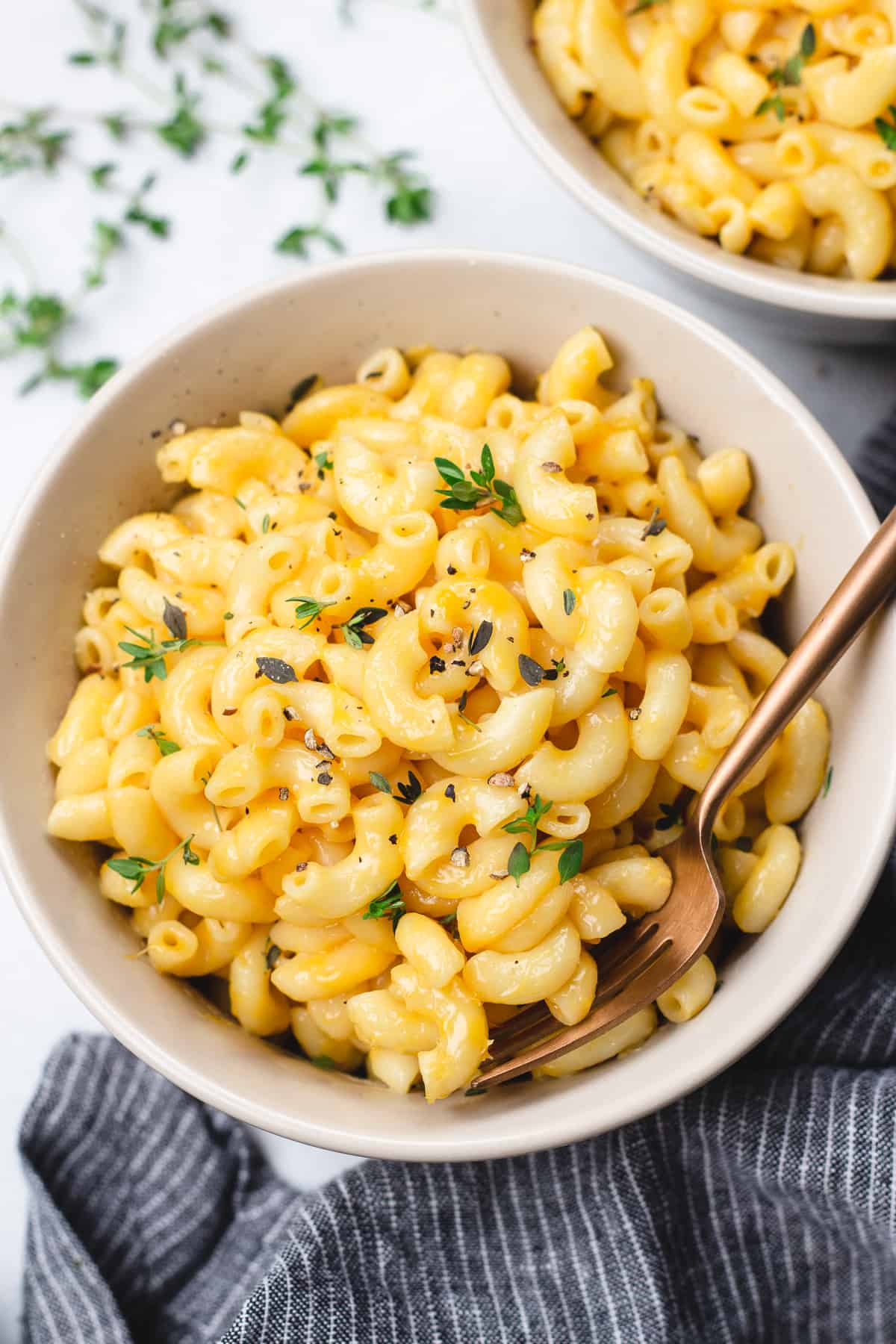 My favorite way to make Instant Pot Mac and Cheese is in a pressure cooker. The pasta comes our perfectly cooked and loaded with rich and creamy cheese sauce.
This creamy Instant Pot Mashed Potatoes recipe is my favorite side dish that I love to serve with Whole Roasted Chicken and Oven Roasted Turkey Breast. It makes a perfect addition for a fancy dinner for a holiday season or a simple family weekend meal.
Breakfasts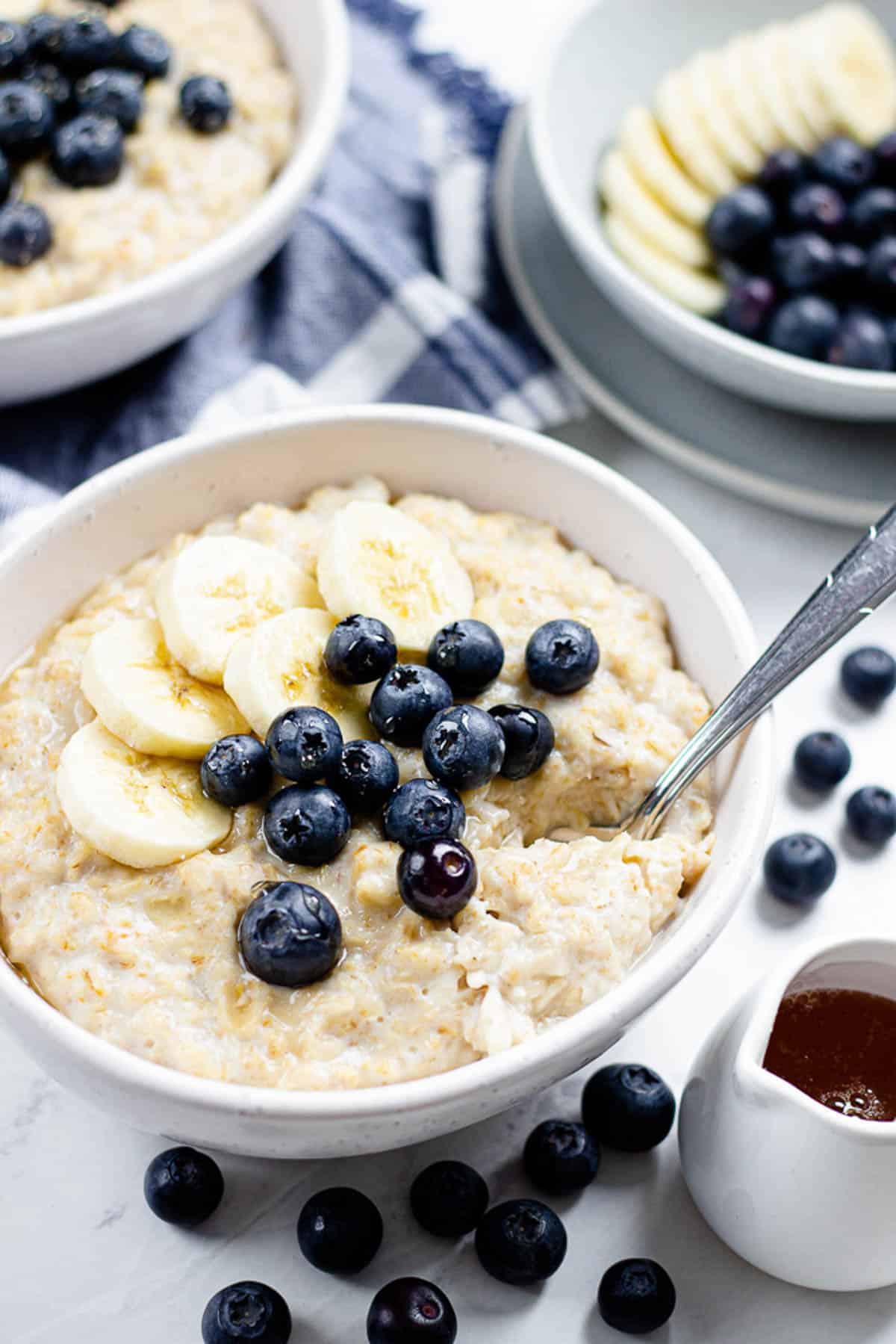 Start your day with this nutritious creamy Instant Pot Oatmeal Recipe! You can make it with rolled or steal cut oats and top with your favorite berry or fruit.
The easiest way to make hard boiled eggs in in the Instant Pot. Use a 5-5-5 method and they will come out perfectly cooked every time! You can use them for breakfast, add to salad, or make fancy deviled eggs.