Red Velvet Cupcakes with cream cheese frosting is a perfect St. Valentine's Day recipe to surprise your loved ones. These easy to make from scratch cupcakes will become your favorite!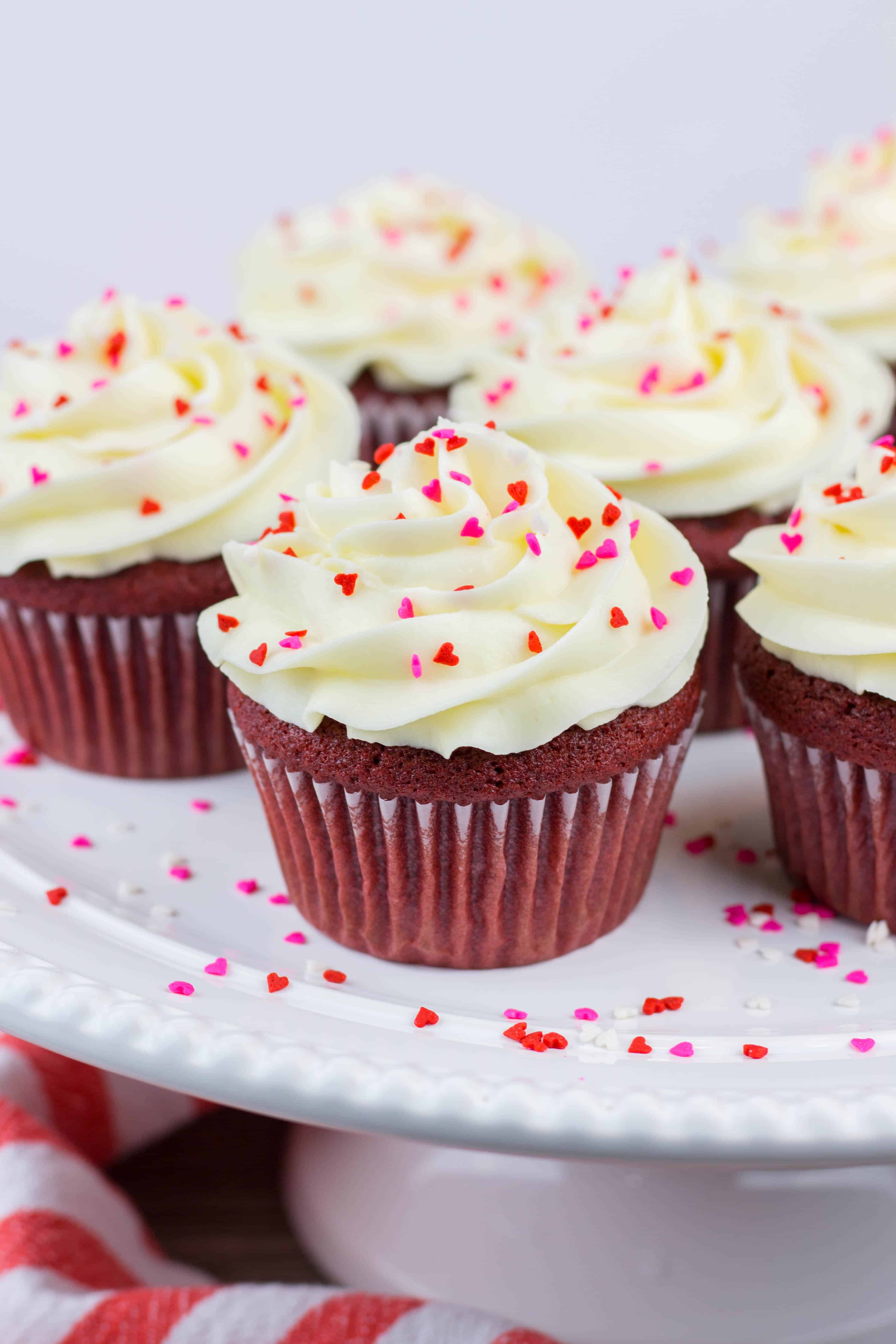 I always try to make something special for my fiancé for St. Valentine's Day. This year, I thought that Red Velvet Cupcakes would be a perfect idea to treat my man. These soft and moist mini cakes are topped with luscious cream cheese frosting that melts in your mouth!
When I was looking for similar recipes, I notices that many people use vinegar and vegetable oil for Red Velvet Cupcakes. After trying to use these ingredients in taste testing, they didn't come out right. The texture was wrong and the flavors were not what I expected.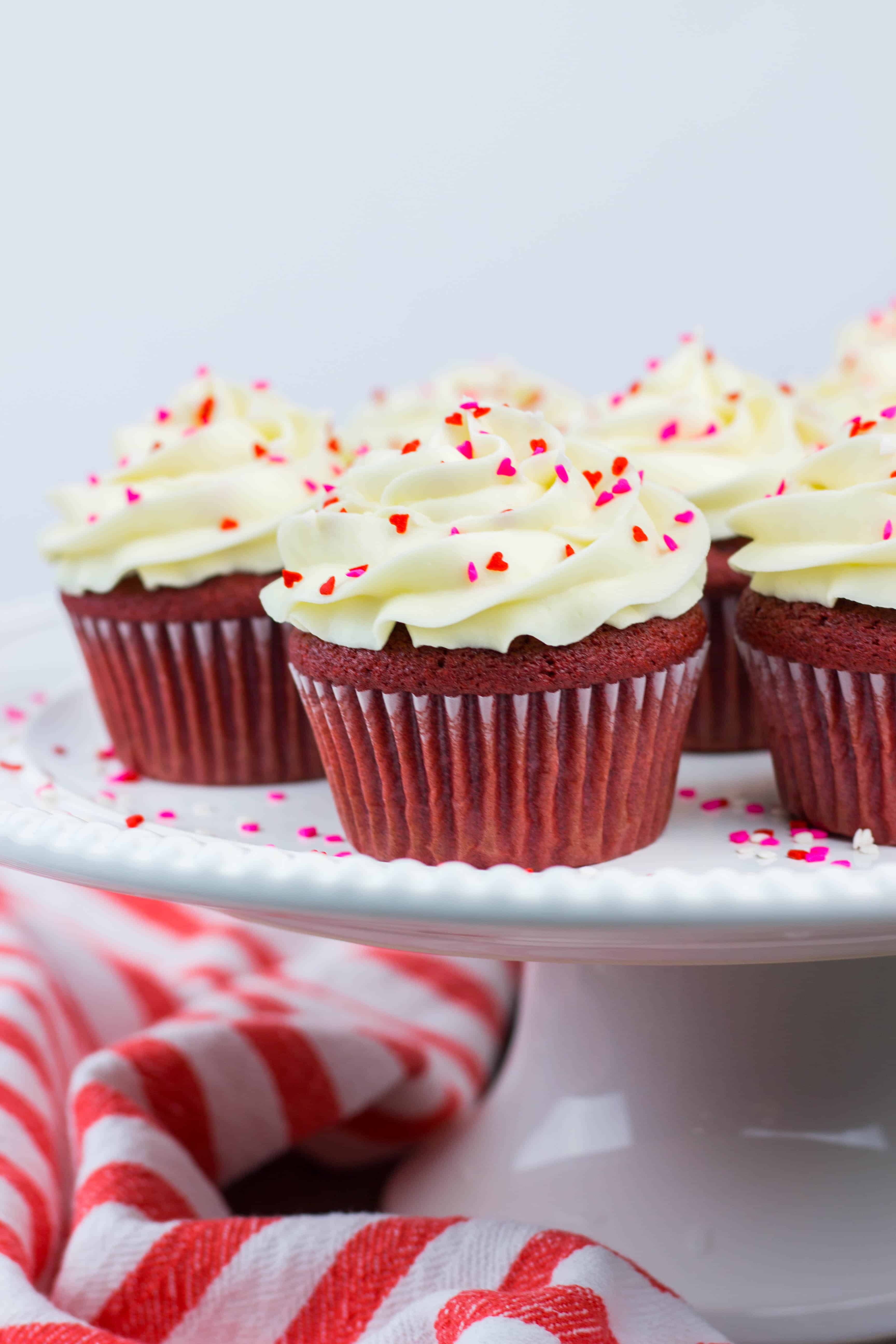 So, I decided to go back to my tried-and-true cupcakes (like Vanilla Chocolate Chip Cupcakes, Kahlua Cupcakes, and Blueberry Lemon Cupcakes) and use these recipes as the base. However, instead of using my classic mix of milk and sour cream, I tried to incorporate buttercream. This new ingredient really did the job. The cupcakes came out soft and moist, with a nice velvety texture.
Now I'm thinking about creating a few more recipes, using buttermilk!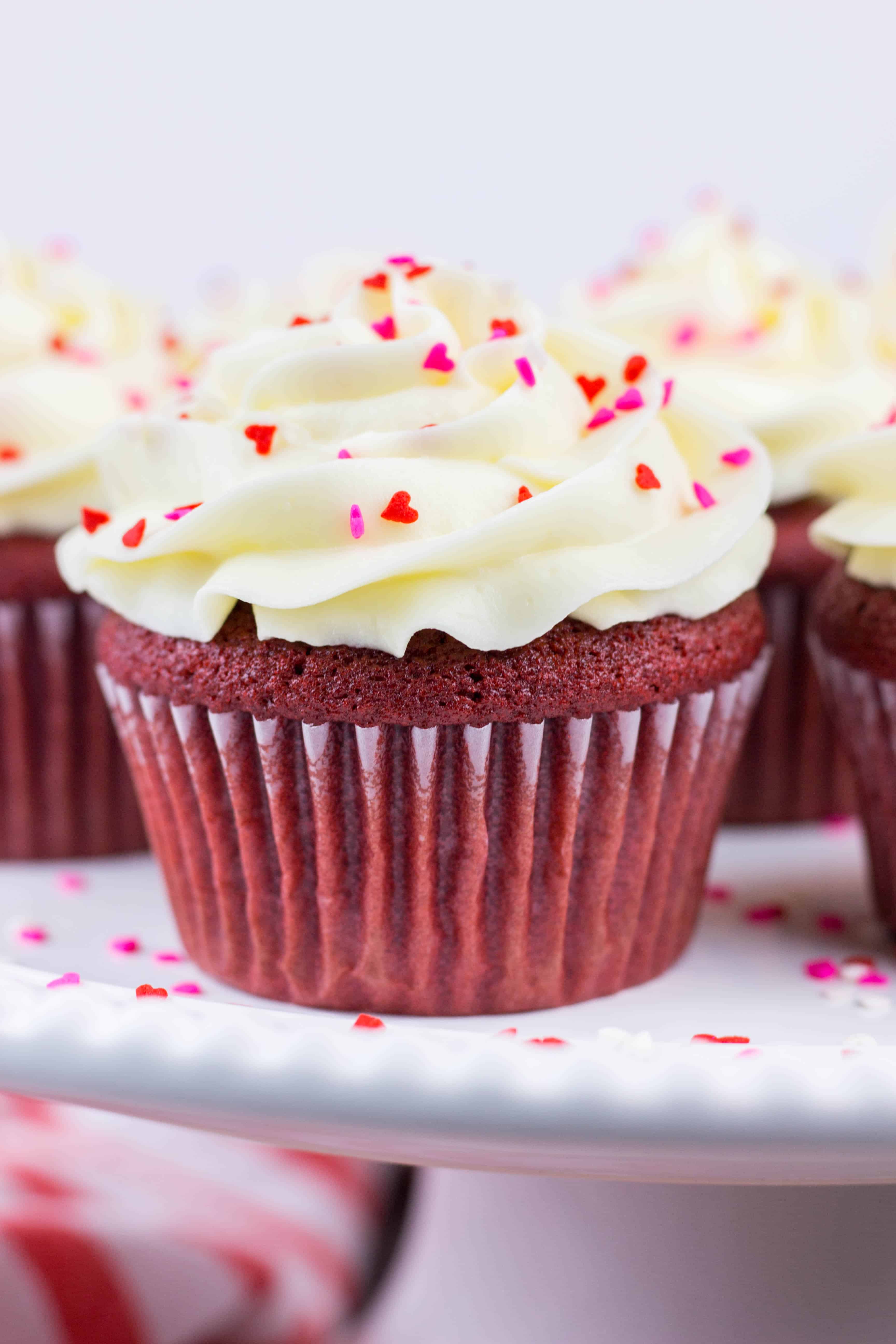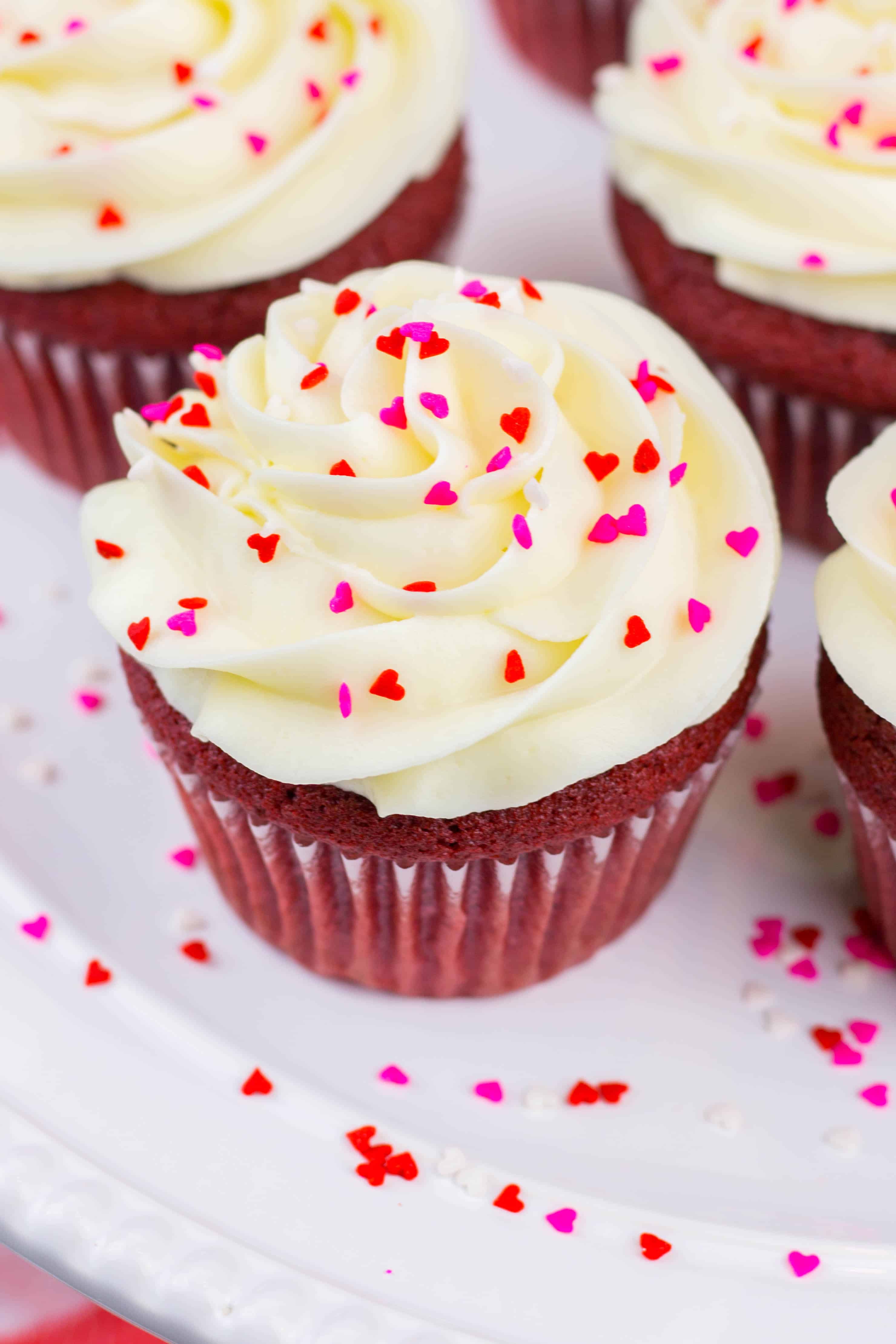 History of Red Velvet Cupcakes:
Today, you can find a variety of recipes for Red Velvet cupcakes, pancakes, cookies, etc. However, Red Velvet was originally created in a cake form. As with many recipes, it is hard to know the exact origin of the recipe, though, thanks to the cookbooks and printed recipes versions we can follow the steps back to the beginning.
As far as we know, the Red Velvet cake was first created in the early 1800s. The mix of cocoa and the flour made the texture of this cake smoother and reminded people of velvet. In 1943, Red Velvet Cake was mentioned by Irma S. Rombauer in her book "The Joy of Cooking" (that is exactly the book that inspired Julia Child and her career). Though, Irma Rombauer herself didn't really like it, it was one of the first official mentions of this cake.
You probably already know that beet juice was one of the main ingredients in Red Velvet Cakes. The first time bakers started to use beet juice in the Red Velvet Cakes was during World War II. Because of the lack of the ingredients, bakers had to improvise how to keep the cakes moist and to add more fillers. Beet juice was a good alternative to add to the recipe. In addition, it made the color of the cakes more appealing. Today, we usually add food coloring to get the famous color.
While no one knows the exact story of how the cake became popular in the United States, there are a few versions of the story. The Waldorf Astoria Hotel in NYC stated that they were they first one to create and put the cake on the menu in 1950s. Although, the Adams Extract company claimed the creation of the cake belongs to them and that it was created in 1920s. Others say that Red Velvet Cake got its roots from the South of the country.
Whoever is right, I am very glad that the cake was created, and today we can enjoy all the varieties of this beautiful masterpiece!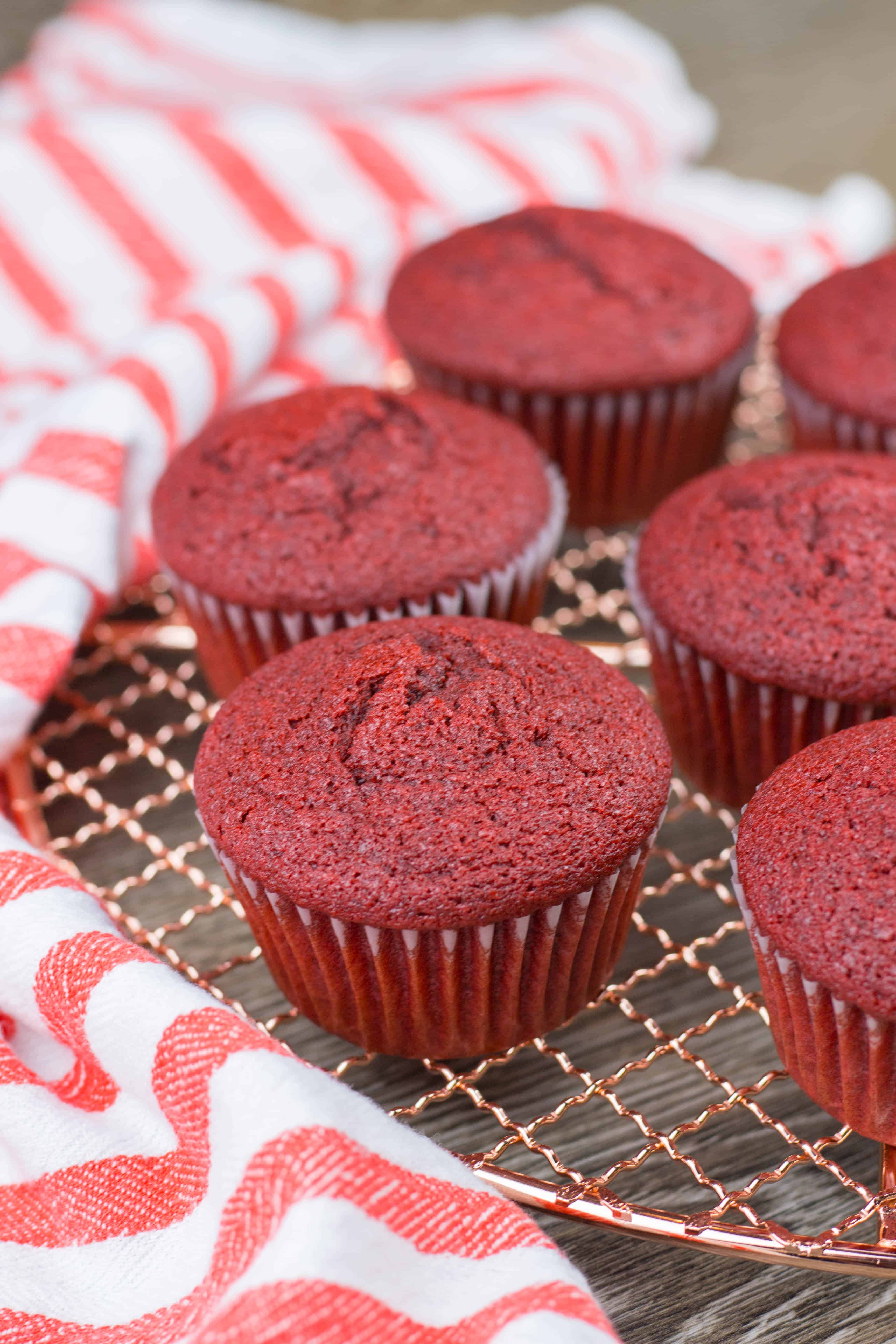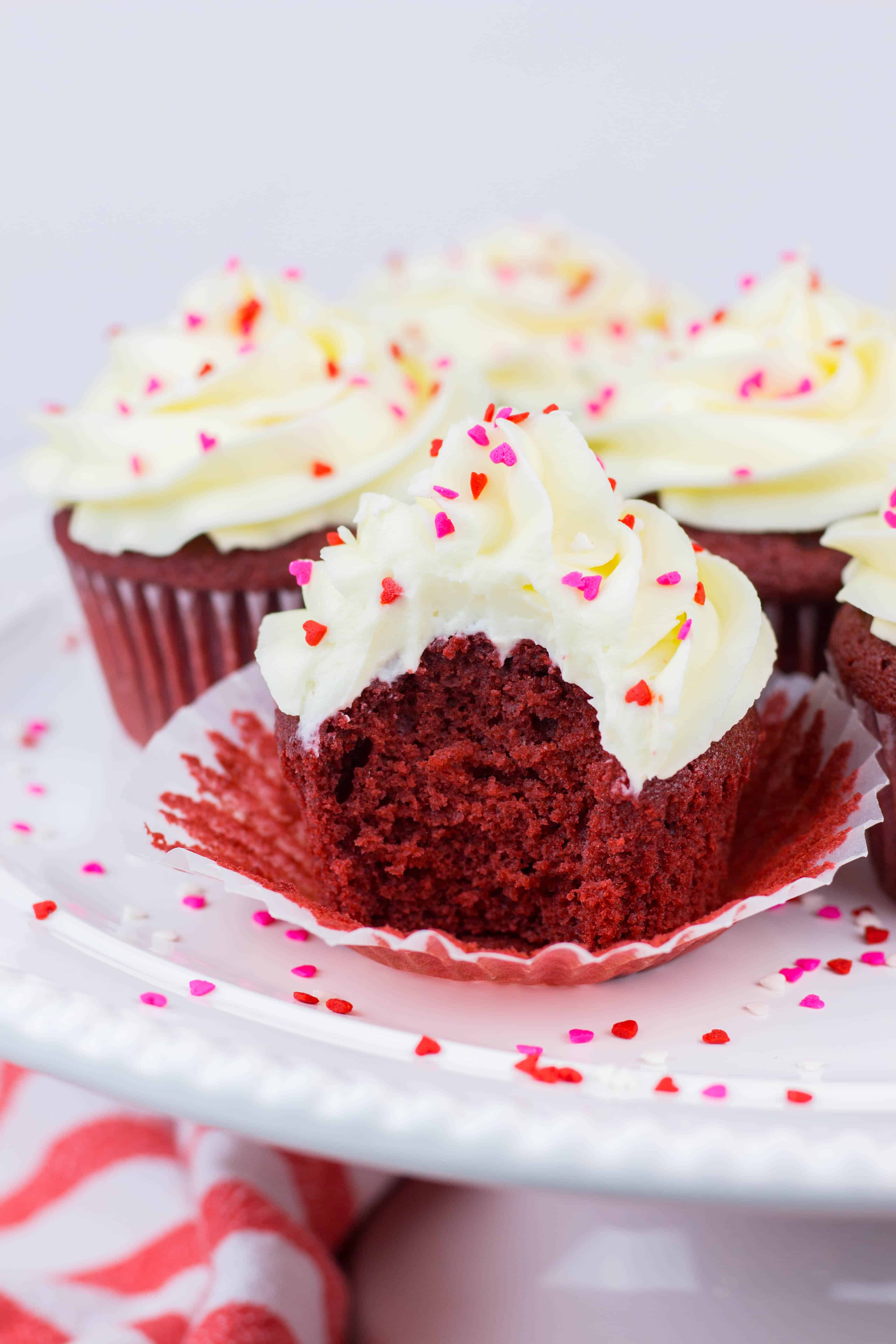 Did you make this recipe?!? I'd love to know how it turned out! leave a comment and a rating below👇 thank you!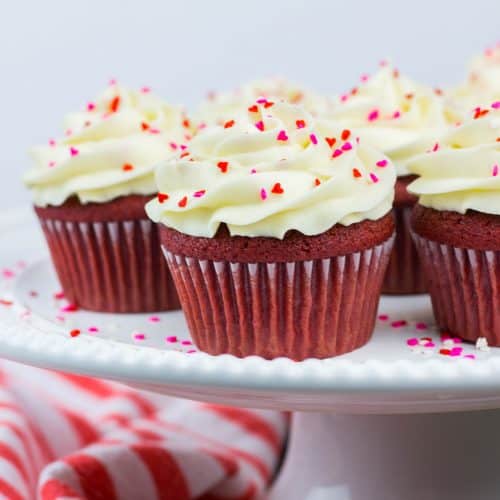 Print Recipe
Red Velvet Cupcakes
Red Velvet Cupcakes with cream cheese frosting is a perfect St. Valentine's Day recipe to surprise your loved ones. These easy to make from scratch cupcakes will become your favorite!
Ingredients
Ingredients for Red Velvet Cupcakes:
1 1/4

cup

all-purpose flour

1/4

cup

unsweetened cocoa powder

1/2

teaspoon

baking soda

1/2

teaspoon

baking powder

1/8

teaspoon

salt

1/2

cup

unsalted butter

softened

1

cup

granulated sugar

2

large eggs

1

teaspoon

vanilla extract

1

cup

buttermilk

1

tablespoon

red food coloring
Ungredients for Cream Cheese Frosting:
8

ounces

cream cheese

softened

1/2

cup

unsalted butter

softened

1

cup

powered sugar

1

teaspoon

vanilla extract

1

tablespoon

milk
Instructions
Preheat your oven to 350°F and line a muffin tin with 12 muffin liners inside. Set it aside.

In a medium size mixing bowl sift all-purpose flour, cocoa powder, baking powder, baking soda, and salt together. Set aside.

Using a hand or stand mixer with a paddle attachment, cream together butter and sugar for a few minutes, until the mixture is pale and fluffy.

Add eggs, vanilla extract, and buttermilk and mix again until well incorporated.

Add dry ingredients in 2 steps and mix until just combined. Do not overmix!

Add about a tablespoon of red food coloring, and using a spatula, mix it well until you have an even color. You can add more food coloring to have the desired color.

Divide this batter between 12 muffin liners. Bake at 350°F for 18-20 minutes or until a toothpick comes out clean. When it is ready, take it out and set aside to cool off for about 10 minutes. Place the muffins on a wire rack.

For the frosting, using a hand or stand mixer, cream together softened butter, cream cheese, and powdered sugar on high speed for 3-5 minutes. Add vanilla extract and a tablespoon of milk and mix it until combined.

When the cupcakes are completely cooled off, top them with the cream cheese frosting using a large star piping tip.
Nutrition
Serving:
1
cupcake
|
Calories:
373
kcal
|
Carbohydrates:
38.6
g
|
Protein:
4.3
g
|
Fat:
23.3
g
|
Saturated Fat:
13.9
g
|
Cholesterol:
91.3
mg
|
Sodium:
147.7
mg
|
Fiber:
1
g
|
Sugar:
25.9
g
Tried this recipe?
If you make this recipe, I'd love to see pictures of your creation on Instagram! Tag me @VeronikasKitchen!